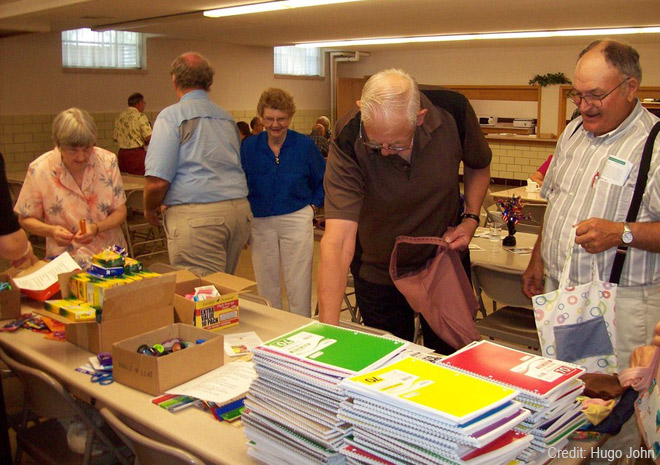 Why in the world would a progressive, passionately Christian "mommy blogger" with over 254,000 likes on Facebook, a New York Times bestselling book, and a TEDx talk to her name notice a group of "gorgeous people" from a small church in Mapleton, Minnesota? I have no idea, but it happened on September 4th, 2014 right here. Glennon Doyle Melton is the woman behind the website Momastery.com, where she writes a blog, among many other awesome things. It was on her blog that The United Church of Mapleton got noticed because of our work this year with Church World Service (CWS).
The United Church has, for many years, been a faithful contributor to the CWS Kit program, providing school, hygiene, and baby kits for those in need both domestically and internationally. Earlier this year, our CWS kit point people, Hugo and Pat John, heard about the matching grant program offered this year by UCC Disaster Ministries for CWS kits, and were immediately inspired.
In the past, The United Church has sent an average of thirty or forty CWS kits each year. Inspired by the grant opportunity and the Spirit of God, the Johns seriously raised the bar for The United Church, issuing the challenge for us to send 100 school kits this fall. To be perfectly honest, as the pastor of The United Church, I was a little worried that we had bitten off more than we could chew, even with the help of the matching grant! 100 kits' worth of school supplies and shipping is a lot of money and a lot of donations to come from a small congregation.
Clearly, God is still speaking in the midst of our community, and the donations quickly poured in from our congregants as well as from other nearby churches and friends of our congregation. In just over a month's time, we assembled and shipped off 178 kits: 126 school kits, 32 hygiene kits, and 20 baby kits. Exceeding the challenge we had taken upon ourselves in service of the Kingdom of God was a moment of joy and celebration for us, knowing that our hard work and sacrificial giving would truly change someone's life for the better.
Going back to where I started, how did we end up on Momastery? CWS is the kind of organization that I believe everyone can get behind: feeding the hungry and helping those in need. I have no idea how or why Glennon developed a passion for the work of CWS, but I'm glad she did. CWS featured The United Church's kit efforts in two articles on its website here and here.
Apparently even famous bloggers like Glennon read the CWS news articles and get excited about how the Spirit of God moves in the world yet today. That's surely where she saw "these gorgeous people in Mapleton, Minnesota" and was inspired to call them "good news" for their work in making sure that "kids in Missouri… and Serbia, and thousands and thousands more children like them in the US and around the world will have the supplies they need to go to school."
And I'm blessed to call "these gorgeous people in Mapleton, Minnesota" my congregants. I give thanks to God for their work in not only assembling and sending off a record number of CWS Kits, but also that they continue to be attentive to the calling of God to be the hands and feet of Jesus Christ in the world today… even when their pastor is a bit skeptical… and doing this good, hard work whether or not they get noticed by famous bloggers, but because it is our calling as the people of God. Thanks be to God!
…from Rev. Ashley Whitaker, pastor, The United Church, Mapleton